ROSS MCCANN RECEIVES THE CHEMECA MEDAL
09 November 2010, ALTONA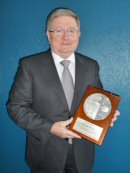 Ross McCann receives
the Chemeca Medal.
Qenos is proud to announce that the company's Executive Chairman, Ross McCann has been awarded the 2010 Chemeca Medal at the annual Chemical Engineering conference.
The Chemeca Medal is the most prestigious award in the chemical engineers profession in Australia and New Zealand. It is awarded to a prominent Australian or New Zealand Chemical Engineer who has made an outstanding contribution, through achievement or service, to the practice of Chemical Engineering in its widest sense and who continues to serve the profession.
Accepting the award at the Chemeca Awards of Excellence dinner in Adelaide, Ross said "I am surprised and very honoured to be given this extremely prestigious award and I thank the panel for giving me this recognition".
A graduate of the University of New South Wales in Chemical Engineering (Hons) in 1969, Ross was recognised for his extensive executive experience in the chemical, petrochemical and mineral resources areas. After eight years as CEO, Ross was recently appointed Executive Chairman of Qenos, Australia's sole manufacturer of polyethylene.
Prior to his role at Qenos, Ross was a member of the Executive Committee of WMC Resources Ltd. with responsibility for major project management both within Australia and offshore. Ross also spent 25 years with ICI Australia in management roles in operations, business development, projects and leading business units. In addition he was also director of the Australian Stem Cell Centre and is currently President of PACIA, the Plastics and Chemicals Industries Association.
Qenos congratulates Ross on such an outstanding achievement.