QENOS PROCESS SPECIALISTS AWARDED
22 August 2012
At the PACE Zenith Awards in July, the Oil and Gas Category prize was awarded to Qenos for its Altona Olefins Advanced Process Control and Plantwide Feed Maximiser submission.

Judge's comments: "This project is a good example of overcoming the difficulties of using Advanced and Multivariable Controls to improve plant operations. A small team was able to deliver a world class solution which generates a return on investment in a difficult local manufacturing environment."

The PACE Zenith Awards are a national recognition award for companies and professionals who show innovation in engineering projects and technological excellence in one or more of ten industry categories. Qenos was awarded the Oil and Gas category prize against a formidable group of nominated projects.

It was a night to remember as eight innovative projects and two outstanding individuals received top honours. MC Shane Jacobson kept proceedings crisp and thoroughly enjoyable with the dinner guests enthralled with his light-hearted humorous view of the world, where nothing was off limits.

Richard Wawrzon, Jennifer Clemow and Grant Treloar were in attendance and gratefully accepted the award on behalf of the many Qenos process specialists and technicians who have been involved with various parts of the project.

"A relevant analogy illustrating this project is installing "auto pilots" on a number of pieces of major process equipment (DMC advanced process controllers); these auto pilots are then coordinated by an "air traffic controller" (Feed Maximiser)" said Richard.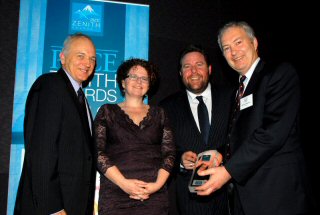 L-R Grant Treloar, Jennifer Clemow, Shane Jacobson and Richard Wawrzon at the Awards dinner.