VICTORIAN UNIONS SUPPORT QENOS MOU
09 October 2012
Officials representing the Victorian Unions operating on the Qenos Altona facilities came together recently to commit to a renewed Qenos Memorandum of Understanding.

Qenos and the Unions have worked cooperatively together since the original MOU was signed in 2003. Both Qenos and the Unions remain committed to those agreed values.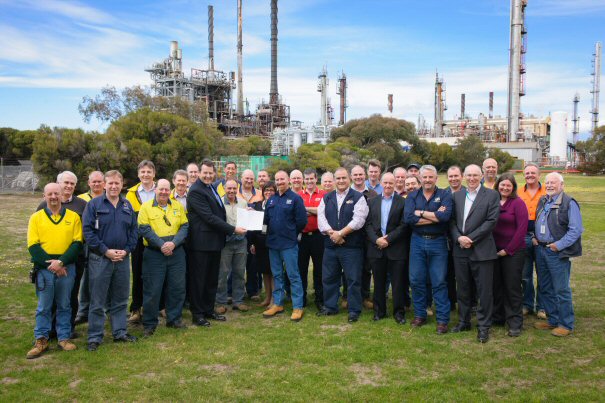 Victorian Unions support Qenos Memorandum of Understanding
Qenos CEO, Jonathan Clancy said, "What came out of a series of meetings was not just an MOU, but a spirit of partnership. That ten year partnership has enabled Qenos to successfully complete two major projects and we are now entering into our fourth turnaround. It also means that we have the right people on the ground to prevent and resolve any issues and more importantly, there is a very clear understanding at every level of our organisations to deliver projects and turnarounds safely, on time and on budget."
Today, the cyclical challenges facing the Qenos business are now greater than ever with a high Australian dollar, rising costs, unreliable feed and customer consolidation. Qenos is highly committed to manufacturing in Australia and aims to remain competitive in a trade exposed industry.
Jonathan said, "I was recently reminded by one Qenos delegate that, notwithstanding the external factors, Qenos management and its employees run plants that are world class in relation to Safety Health & Environment standards and reliability."
"It is this attitude and the commitment demonstrated in almost ten years of our partnership approach that I am confident we will complete this current turnaround safely, on time and on budget, to allow Qenos to take advantage of the next upswing in the polymer cycle," added Jonathan.
State Secretaries of the AWU, AMWU, ETU (CEPU) and the NUW, jointly agreed to the objective of maintaining a viable business with the maximum number of affordable, highly trained well paid jobs; working together to build shareholder confidence by delivering successful shutdowns and projects; honouring agreements and making all efforts to resolve matters in a manner that will minimise industrial disputes.
All parties acknowledged the benefit of the open and timely communication that has been the cornerstone of the partnership approach, which Qenos aims to ensure key issues, challenges and opportunities are understood in order to ensure the ongoing safe, reliable and profitable operation of the business.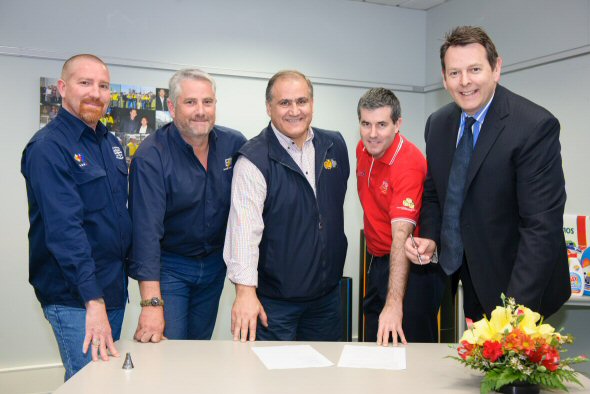 L-R: State Secretaries Leigh Diehm AMWU (Metals), Dean Mighell ETU, Cesar Melhem AWU and Tim Kennedy NUW commit to the Qenos MOU with CEO, Jonathan Clancy.