COMBINING EXCELLENCE, INSPIRATION & INNOVATION
23 March 2015
Following another round of innovative employee submissions, the 2014 Qenos Safety Health & Environmental Excellence Awards uncovered an inspiring Qenos Overall winner.
Film, Injection & Extrusion Account Manager, Melissa Brewer took out this prestigious award for her work with key strategic customers.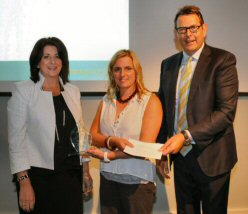 L-R Samantha Read PACIA CEO, Melissa Brewer and
Qenos CEO Jonathan Clancy
Melissa's submission 'Sharing Qenos Safety with our Customers' shines a light on the way the Qenos workforce goes about its everyday business.
By engaging its customers and sharing SHE practices, Qenos hopes to create a link between safe manufacturing and end-use applications. Melissa organised Qenos site tours for several of the company's major customers to showcase its Safety Health & Environmental Operating Systems. The visitors were introduced to the company's Unsafe Acts Prevention and Behavioural Based Safety practices.
Altona
The Environment & Sustainability category award at Altona was won by Environment Advisor, Les Harman and the Olefins Operations Team for the significant work undertaken over the past 15 years to reduce flaring at Altona.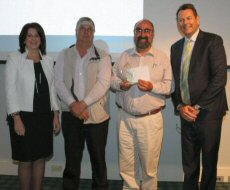 L-R Samantha Read PACIA CEO, Les Harman,
Paul Taranto and Qenos CEO Jonathan Clancy
The entire team has had an ongoing goal for some years now to reduce the number and magnitude of incidents that result in flaring.
Since 2000, the Olefins site has decreased the amount it has flared by more than 2,500 tons per annum. In 2014, Qenos recorded its lowest ever quantity flared of 885 tons.
It has been shown that if the flaring rate is kept below 5 T/hr, the noise level from the flare is unlikely to disrupt the local Altona community.
For the past six years, the number of flaring incidents has reduced our environmental impact by more than 70 per cent.
Another team from Qenos Olefins, Liam Collopy, James Smith and Dave Toohey won the Safety and Health section for their work in addressing problems and possible safety risks in the existing storage and handling practices of Cortrol.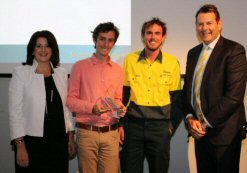 L-R Samantha Read PACIA CEO, Liam Collopy, James
Smith and Qenos CEO Jonathan Clancy
Cortrol is an oxygen scavenging chemical dosed into the boiler feed water to ensure the boilers are free of dissolved oxygen. Each day, a batch of Cortrol is measured out and added to a dilution tank where it is then dosed into the de-aerator.
The innovative solutions created by the team have provided a far safer and superior bunded work area for operators to perform this daily task.
Botany
Qenos Mechanical Apprentice, Brodie Oakes gave an enthusiastic presentation of Alkatuff's winning entry – the Seed Bin Unloading Resin Pallecon Filter.
He and team members Gilbert Barraza, Edward Rigby, Colin Sims and Rodney Smith won the 2014 Environment Award for an innovative solution to prevention of loss of containment, manual handling issues and eliminating the possibility of a static electricity/dust explosion.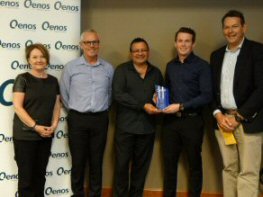 L-R Employer Representative from MEGT Rhonda Moore,
Colin, Gilbert and Brodie with Qenos CEO, Jonathan Clancy.
The combined experience and wisdom of these Qenos employees resulted in the in-house engineering, manufacturing and commissioning of the Pallecon filter box system. It also provided Brodie with a firsthand opportunity to learn valuable skills and knowledge. Apart from the environmental solutions to this possible loss of containment problem, it has also helped eliminate a major slip and inhalation hazard for any personnel working in and around the seed bin loading area.
Alkathene's team comprising Gabriel Rojas, Paul Vafiadis and Nathan Power won the 2014 Safety Award for their entry on the Replacement of Bursting Tubes on the Secondary Compressor.
This entry has almost eliminated the number of unplanned stoppages, loss of production and subsequent VC atmospheric emission and noise events caused by the premature failure of the o-rings. By significantly reducing the frequency of failed bursting tubes, it has also reduced the safety risk associated with climbing over pipes in a confined area to replace the failed bursting discs.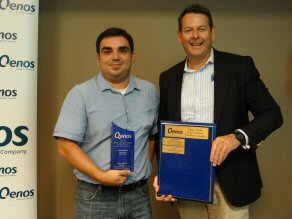 Gabriel Rojas accepts the Qenos 2014 SHE Excellence Award
for Safety from CEO, Jonathan Clancy
Congratulations to the winning teams and to all those who submitted entries for the 2014 Qenos SHE Excellence Awards.