QENOS CELEBRATES SHE EXCELLENCE
06 April 2016, BOTANY/ALTONA
Speaking at the Qenos Safety Health & Environment Excellence Awards in Sydney, Qenos CEO and Executive Chairman, Jonathan Clancy, said "Taking ownership of risk identification is what differentiates Qenos - it's what is in our DNA."

He added, "Qenos has the ability to manage continuous improvement processes in our industry, whilst working towards zero environmental incidents and zero recordable injuries. We know we can achieve this, as has been demonstrated during the 2015 Botany Turnaround."

The Qenos SH&E Excellence Awards were held in March to recognise significant contributions by employees to improving safety, health or environmental performance during 2015 in their plant or work area. Each submission is judged on criteria which includes amongst other things, cost, magnitude, innovation, impact on employees and the community.

At the Qenos Botany awards, the Olefines site won the Safety Health & Environment category for their collective efforts during the 2015 Turnaround. This major project resulted in zero recordable injuries, zero LPSIs, zero environmental incidents, zero licence breaches, zero community complaints and zero odour complaints.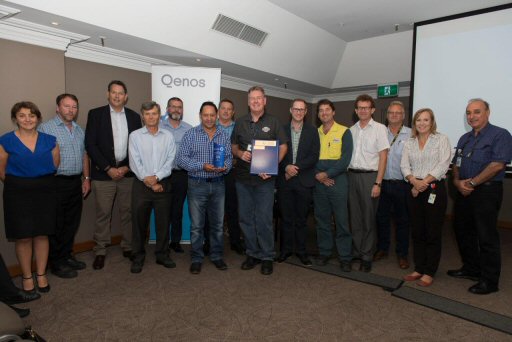 Representatives of the Olefines 2015 Turnaround winning team
Accepting the award on behalf of the whole Olefines team, Ian McGuinness, Operations SHE Team Leader, said "This great result is because everyone knew the policies well in advance - we were like actors in a play - we all had a role which was well rehearsed."
Another big winner for the Olefines team was "The Olefines Effluent Journey."
Presented by Catherine Judge of Qenos, the story which commenced in the late 1970's, detailed the efforts of the site to decrease the amount of chemical effluent discharge to sewer - a practice which could have compromised the site's Licence to Operate. After years of temporary measures, an alternative solution was tested in 2015 which would divert the entire chemical effluent stream to process effluent and recycle to the cooling water tower. This highly successful result will be permanently implemented during 2016 making the Qenos Olefines plant unique, as the only known plant to have only cooling water blow down as its discharge to sewer.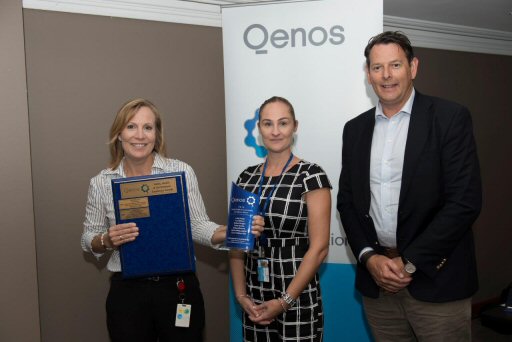 Catherine Judge accepts the award from Deborah Sheedy, Business Customer Representative, Sydney Water and Jonathan Clancy of Qenos
At the Altona awards, six finalists made their presentations with the ultimate winner being the Olefins T-509 Acoustic Emission Testing team.
Although this method of external testing has been used on spheres at Qenos, this was the first time the process was applied to inspect a tower at the site. Acoustic Emission Testing was selected as a low risk option for T-509, both process and financially.
Team representative, Chris Saville described the labour intensive work previously undertaken to inspect the 50 internal plates of the 35m high Olefins T-509 tower, which typically took weeks to complete, with costs in excess of $100k. This process also had a number of inherent hazards for employees including working in a confined space, at height and in contact with equipment containing process material - not to mention the downtime and process impact.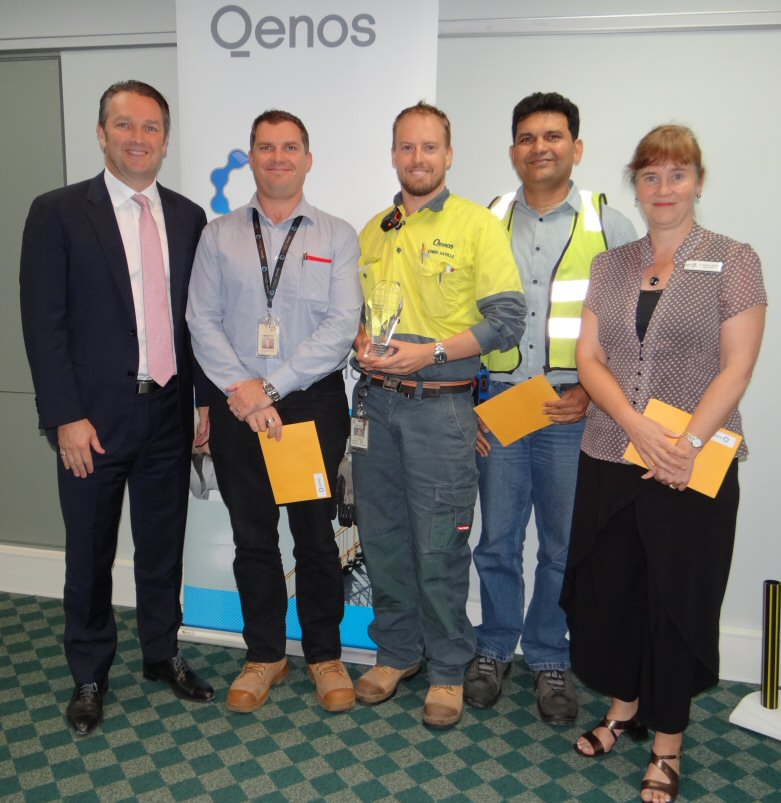 Damian Toohey with Hobsons Bay City Council Deputy Mayor, Sandra Wilson presenting the Altona SHE award to Ross Hutton, Chris Saville and Raj Solanki
The results have been significant and have avoided numerous potential health and safety hazards. The T-509 tower inspection was completed within one day at a fraction of the cost and eliminated exposure to any harmful components as part of the preparation or entry requirements of internal inspection. The Acoustic Emission testing validated the integrity of the vessel and has provided opportunity for future testing on T-509 as well as other vessels.
Congratulations to the winning teams of the 2015 Awards and to all who submitted entries identifying continuous Safety, Health or Environmental improvements at Qenos.