QENOS TAKES IT TO THE MARKET
26 August 2016, ALTONA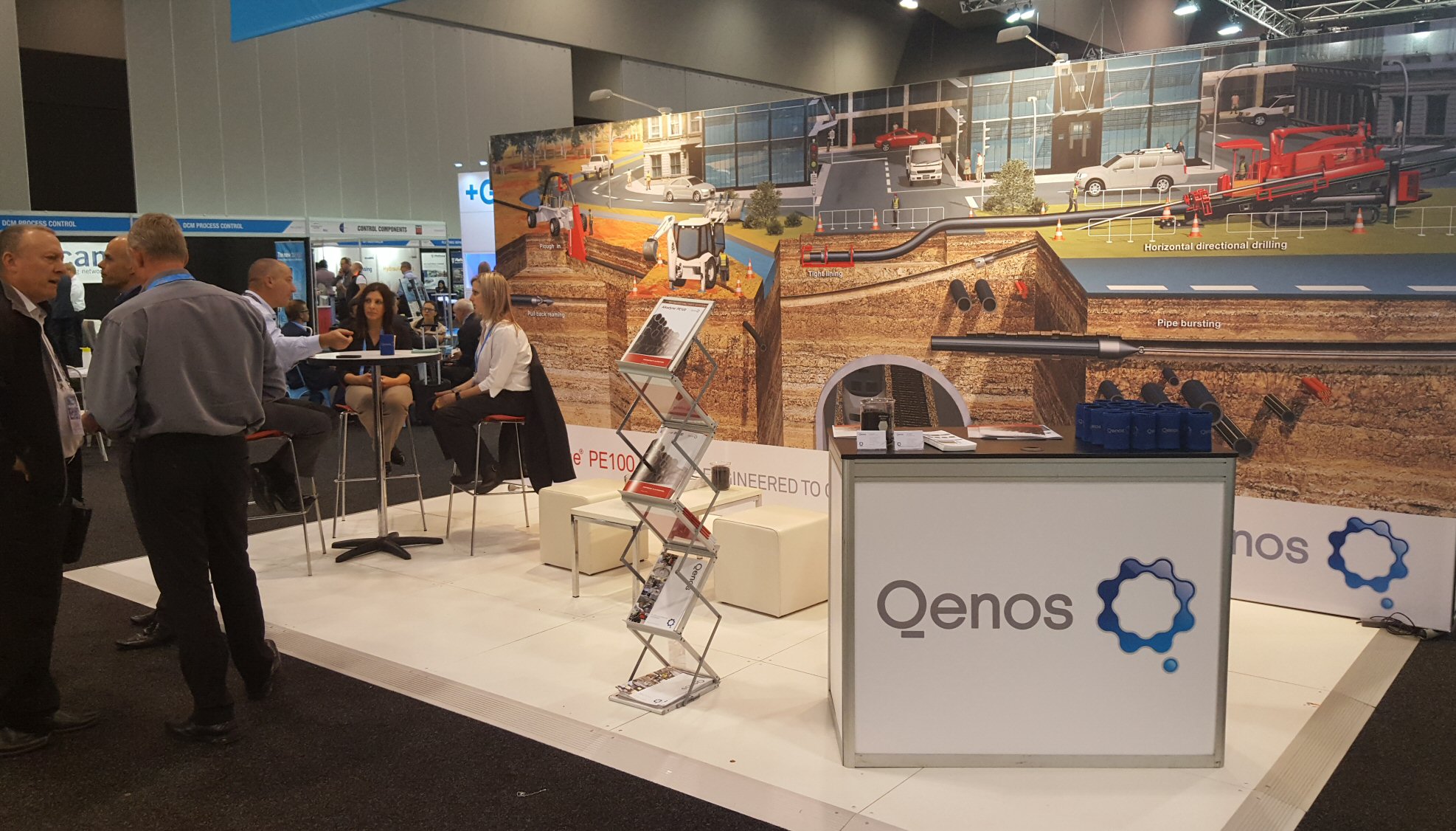 The Qenos exhibition at OzWater 2016
Qenos works hard to deliver its value proposition of range, service, quality and support. This value proposition is built around the customer and is the driver for high performance across feedstock, operations, sales and logistics.
Promotional events provide Qenos with a great opportunity to tell its story of 'Ingenious Transformations' by engaging with the supply chain that adds value to Australia's natural resources. Presence at key industry events promotes Qenos's products and services and builds equity in the brand.
In addition to industry events, Qenos works with the end market engaging end users, engineers and specifiers to increase awareness of the value of Qenos supply.
Qenos was a proud trade sponsor of the Dairy Industry Association of Australia's Victorian State Conference held in Melbourne earlier this year. Qenos hosted an exhibition stand to promote its Alkatane HDPE resin for milk bottles.
It was a great opportunity to touch base with current and prospective customers and hear what is front of mind for customers' businesses at the moment. There has been a lot of controversy surrounding the dairy industry in the southern states of Australia in recent times. The local dairy industry is going through a tough time with low milk prices likely to continue and put significant pressure on the industry as a whole. Despite the challenges ahead, what really came across in this year's conference was the passion that many in this industry share for dairy – one speaker called it "Milk Fever".
Packaging "2020 Vision" was the theme at the Australian Institute of Packaging biennial National Conference held during the first week of June in Melbourne.
A range of presentations over the two days covered everything from the macro economic outlook for the Australian economy to the design of produce crates to prevent bananas being crushed.
Food packaging was a key theme, especially the growing concern in 'developing countries' about food safety. "Food without fear" is the new catch phrase. Several presenters mentioned new technologies such as QR codes which can be applied to food packaging to provide proof of provenance and hence combat counterfeiting.
Sustainability was another key theme. One speaker made the point that if invented today, packaging would be seen as "green" because of the amount of food waste that it saves.
Qenos supplies polyethylene for many different forms of packaging including flexible films, rigid bottles and small injection moulded caps.
At OzWater '16, Australia's annual international water conference and trade exhibition, Qenos launched its new PE100 HSCR grade, Alkadyne HCR193B, to the water distribution industry. All major Australian water corporations were present as well as the supply chain involved in designing their pipelines. There was significant interest in the new HCR193B grade, particularly among trenchless installation contractors who can see the benefit of a pipe that can tolerate scratches and point loads.
Qenos has undertaken an extensive program of engagement within the industry in developing the marketing strategy for HCR193B. This has extended beyond its direct customers, and reaches to the pipeline designers, specifiers and asset owners who were present at OzWater '16.
The key drivers for asset owners to use a high stress crack resistance HCR193B fall into one of three categories:
- lower installation cost
- increased service life
- reduced wall thickness
The comprehensive industry engagement has had direct benefit to the product launch through full value capture and closer relationships in the market. An indirect benefit has been increased awareness of the full Qenos product portfolio which has helped to drive sales of all Qenos pipe grades.