QENOS LAUNCHES SPECIALITY GROUP EXSOURCE
01 May 2017, ALTONA
Qenos - Australia's sole manufacturer of polyethylene – is set to extend its industry reach by launching its specialty polymer distribution group, eXsource.

The launch of eXsource opens a direct channel that offers a new and expanded product range of local and international specialty polymers.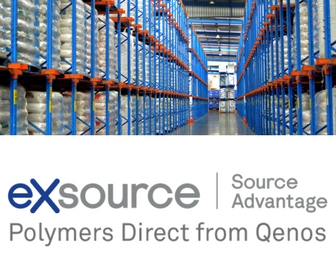 A pioneer in the Australian polymer market, Qenos has been supplying polyethylene to the manufacturing and processing industries for over 60 years. The launch of the eXsource channel represents a significant investment in this growing market.
"The launch of eXsource is an exciting chapter for us. It means that we can now offer businesses big and small an accountable and reliable supply of the best local and international polymers. I'm thrilled to offer businesses the chance to directly source the quality raw materials they need, including specialty polymers and Qenos Polyethylene", said Ged Beckton, eXsource Business Manager.
Previous winners of the Victorian 'Manufacturer of the Year', Qenos' ongoing commitment to the manufacturing and processing industries means eXsource customers will benefit from the significant investment and ongoing technological advances of the group. With the coverage and scale of Qenos logistics, eXsource customers will enjoy an extended product range and services previously only available to larger polymer converters.
The new eXsource channel will:
· Partner with leading principals to provide a wide range of polymers from manufacturers such as Qenos, Bluestar, ExxonMobil Chemical, LyondellBasell and others
· Offer a wide range of products including: synthetic rubber, EVA, EAA, plastomers, HCR resins, BOPP, bitumen modifiers, tackifying resins, polymer modifiers, styrenic thermoplastic rubbers, thermoplastic elastomers and polybutadiene
· Provide comprehensive customer service and a hassle-free supply and logistics program.
"Through eXsource, we can extend the Qenos strengths of great service and reliable supply to a much broader customer base" says David Francis, Sales, Marketing and Technology Manager at Qenos.
The team at eXsource looks forward to talking with those in the industry to discuss how they can add value to their business. To find out more, contact eXsource directly on 1800 331 230 or go to
www.exsource.com