QENOS INDUCTED INTO VICTORIAN MANUFACTURING HALL OF FAME
15 June 2011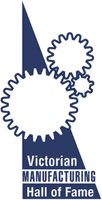 Victorian Manufacturing Hall of Fame
The Victorian Manufacturing Hall of Fame celebrates manufacturing excellence in Victoria and showcases locally based manufacturers whose innovative and sophisticated solutions to manufacturing challenges are world class.
Qenos was inducted into the Victorian Manufacturing Hall of Fame on Thursday, May 26 at Melbourne's Crown Palladium ballroom.
Accepting the award, Qenos CEO Jonathan Clancy said "Qenos is delighted to be inducted into the Victorian Manufacturing Hall of Fame. This award is positive external recognition of our recent Pathway to Growth efforts."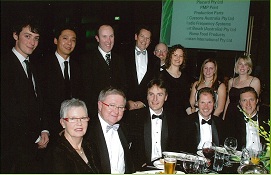 Qenos representatives at the 2011 Hall of Fame Awards.
The awards were presented by Victorian Minister for Manufacturing, Trade and Exports the Hon. Richard Dalla-Riva at a gala event attended by 850 people including heads of government, regulatory departments, union officials and of course leaders in industry.
Some of Qenos's recent highlights include:
Safety Leadership - Qenos has been ranked #1 by PACIA in Safety in its category of the Australian plastics and chemistry industry. Qenos is also working alongside ChemChina to facilitate a Safety, Health and Environment knowledge exchange program across 22 manufacturing plants throughout China.
Expansion - Qenos announced a $195m investment to expand and upgrade the Altona manufacturing facilities increasing Altona's domestic High Density Polyethylene production capacity by 20 per cent and enhancing Qenos's international cost competitiveness by improving scale and efficiency.
Water and Energy Savings - In March 2011, Qenos and AGL Energy Limited co-announced a $45m investment to construct a state of the art cogeneration facility to be built in Altona. The cogeneration unit will meet all of Qenos's electricity demand and will be capable of producing a third of its steam requirements, while reducing 100 kt in greenhouse gas emissions.
The Qenos Steam to Polymers project was safely and successfully executed in March 2011. This project maximises use of excess steam at Qenos Olefins by transferring it to the Qenos Polymer sites also reducing greenhouse gas emissions.
In April 2011, the Minister for Water, the Hon Peter Walsh MP commissioned the City West Water recycled water plant in Altona which is set to enable Qenos to save over 2.5 billion litres of drinking water each year.
Innovation - Commercialisation of new world class pipe resin Centrene® PE 100. Commissioning of new production facilities, that double current pipe resin manufacturing capabilities at Qenos's Altona facilities, were officially launched in May 2011 by Victorian Manufacturing, Exports and Trade Minister Richard Dalla-Riva.
"I am particularly proud of the Qenos management team, employees and all of our stakeholders who, collectively, have enabled Qenos to be inducted into the Manufacturing Hall of Fame" said Jonathan.
Member for Altona, Jill Hennessy MP congratulated Qenos on its recent induction "Qenos is a valuable contributor to the community and economy of Altona and I wish them every success for the future," she said.
"Being the Member for the Altona Electorate I recognise how Qenos plays an important part in local manufacturing and is a good supporter of local community projects proving themselves good corporate citizens over many years."