QENOS SIGNS LONG TERM FEEDSTOCK SUPPLY AGREEMENTS
27 September 2011
Qenos is delighted to announce the signing of long term feedstock contracts with ExxonMobil Australia and BHP Billiton at an official ceremony held today in Beijing, China.

Hosted by Mr Ren Jianxin, President of China National Chemical Corporation ("ChemChina"), the signing ceremony at the Diaoyutai State Guesthouse was attended by senior representatives of Qenos, ExxonMobil Australia and BHP Billiton as well as the Victorian Premier, Mr Ted Baillieu.

Qenos, ExxonMobil Australia and BHP Billiton, with the support of the Victorian Government and Qenos's major shareholder ChemChina, have entered into long term supply arrangements enabling the creation of significant value by utilising Bass Strait oil and gas resources to produce polyethylene, which is subsequently transformed by the Australian manufacturing industry into high value manufactured goods.

"The contracts will secure 15 years' supply of feedstock worth more than $2 billion. We add significant value to ethane and LPG to produce polyethylene which is then used to develop a range of high quality plastic products, both domestically and for export," the Chief Executive Officer of Qenos, Jonathan Clancy said.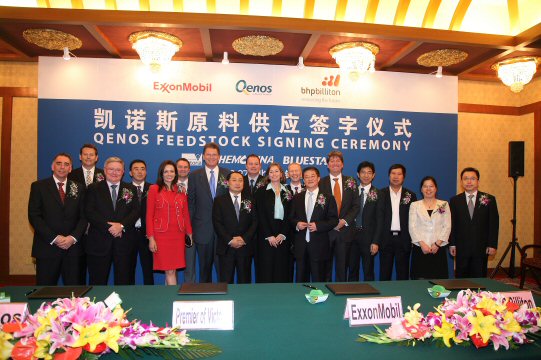 Qenos Feedstock Signing Ceremony, Beijing
The signing ceremony was in recognition of the 15 year feedstock supply agreements entered into between Qenos and each of ExxonMobil Australia and BHP Billiton. These agreements assist with the $195 million expansion and ongoing sustainability of the Qenos Altona Victoria polyethylene manufacturing operation, and extend the previous supply arrangements.
"These contracts are a significant investment in Victoria's economy. It will secure jobs at the Qenos Altona Plant, and will create 250 additional jobs during the $195 million expansion of the plant," Victorian Premier Ted Baillieu said.
"This substantial investment in the Australian plastics industry will position Qenos for future growth and development. It means that Qenos has a long term future which is great news for our employees and the broader community," said Clancy.
"This project will increase Altona's manufacturing capacity by 20 per cent ensuring it remains competitive in the global market. For our valued customers, this significant investment will provide benefits through enhanced reliability of supply, coupled with our ability to increase capacity in line with the growth of the Australian polyethylene market, providing a sound base for future growth," added Mr. Clancy.
"In addition, there will also be significant environmental benefits from improved production efficiency, reducing both water and greenhouse gas intensities," Mr Clancy said. He also said the investment was supported through the assistance of the Victorian State Government.
"We are very pleased that the Victorian Government recognises the value of local manufacturing jobs and is prepared to back Qenos for the long term."
Qenos Media Release


Vic Govt Media Release