QENOS LAUNCHES NEW COGENERATION UNIT
24 May 2013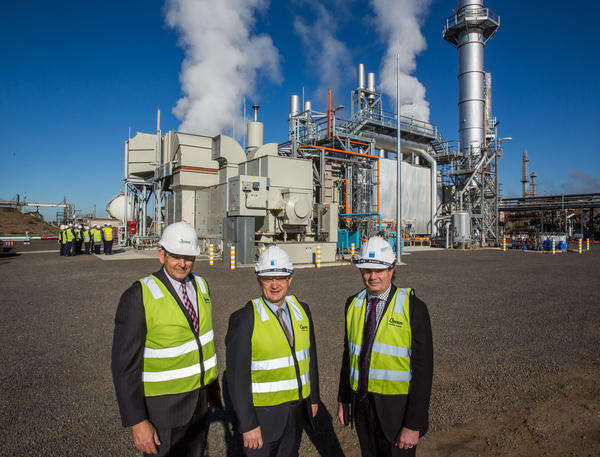 L-R Jonathan Clancy CEO Qenos, The Hon Nicholas Kotsiras, Minister for Energy & Resources and Michael Fraser CEO AGL inspect the new Cogeneration facility at Qenos.
The new AGL Cogeneration facility was launched at the Qenos Olefins site in Altona.
At a ceremony attended by industry leaders, regulators, Qenos and AGL employees, the Minister for Energy & Resources, The Hon Nicholas Kotsiras officially opened the new AGL 21MW Cogeneration facility.
Qenos CEO Jonathan Clancy said "The replacement of one of the steam boilers with the cogeneration plant will result in a significant improvement of our energy efficiencies. It will also meet all of Qenos's electricity needs and generate a third of the steam required for our manufacturing processes at Altona."
"It will also result in a reduction of approximately 100,000 tonnes of greenhouse gas emissions per year or the equivalent of taking 25,000 cars off Australian roads."
Michael Fraser, AGL Managing Director and CEO, said the facility was the largest investment in industrial or manufacturing co-generation in more than 10 years.
For more information regarding the Cogeneration Facility please see the joint Qenos/AGL Media Release attached.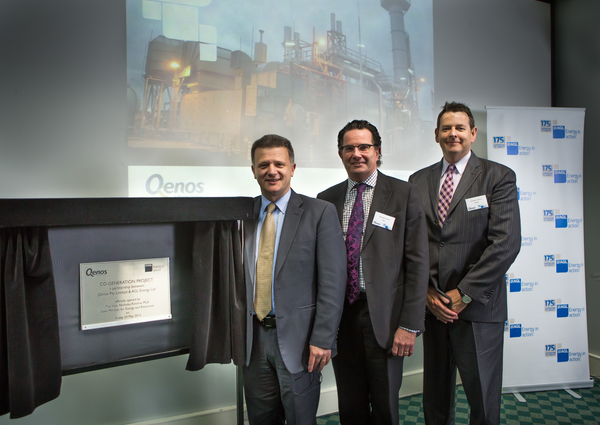 L-R The Hon Nicholas Kotsiras, Minister for Energy & Resources, Michael Fraser CEO AGL and Jonathan Clancy unveil the official plaque at the Cogeneration launch ceremony.
Media Release