THE QENOS ENERGY SUMMIT: MANUFACTURERS REPORTING A 100% ENERGY COST INCREASE IN JUST THREE YEARS
30 May 2018, ALTONA
>Manufacturers in Australia are experiencing huge increases in energy costs and are tackling the problem by finding the lowest cost energy supplier and reducing energy consumption. While this may go some way to assisting in keeping cost increases to a minimum, the level of increase means there has been a big impact on their bottom line.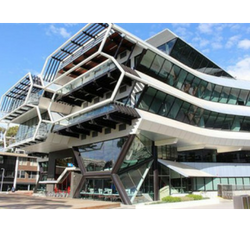 Held at Monash University in May, the Qenos Energy Summit brought together manufacturers from across the industry to discuss the energy challenge and to address how to remain competitive in a tough climate.
Speakers included representatives from the Australian Energy Council, Chemistry Australia, the Society of Plastic Engineers as well as technical experts from Energy NZ and Qenos.

L-R Stephen Bell, CEO Qenos, Matthew Warren, Chief Executive Australian Energy Council, Peter Bury, Director Strategy, Innovation & Research Chemistry Australia and Andy Logue, Director Energy NZ
Research conducted with attendees showed a marked increase in energy costs – with many participants reporting up to 100 percent increase in their energy bills since 2015.
"Many of our customers and partners are facing a huge energy cost challenge. How do we, as an industry, remain competitive when Australian energy costs – once a global point of competitive advantage – are rising at the rate they have over the last few years?
said Ged Beckton, Qenos eXsource Business Manager.
With over half of the Summit attendees having either reviewed or renewed their energy contracts in just the last six months, the Energy Summit looked at future strategies and some of the latest innovations for reducing consumption, with sessions on understanding energy use and common opportunities for energy reduction.
Speaking at the event, Peter Bury Director – Strategy, Innovation and Research at Chemistry Australia, gave attendees an overview on policy, programs and knowledge to help manufacturers adapt to the new energy environment. High on Chemistry Australia's list of reforms is the fundamental need for manufacturers to access natural gas and feedstock energy within a balanced regulatory environment. Bury also provided attendees with information on a number of Victorian government support programs, including the Victorian Energy Saver Program and the Federal Industries Investment Fund.
Qenos has been a pioneer in Australian manufacturing for nearly 60 years and continues to evolve, striving to support customers that are facing many challenges in their businesses. The Energy Summit was developed for key manufacturers and industry bodies
To apply for a place at a future Summit, email kate.moulton@qenos.com. For more information on the recent Summit, go to
Energy Summit
.