QENOS CHEMISTS TO THE RESCUE!
20 April 2020, ALTONA
In early March, when the COVID-19 pandemic was declared, it was becoming increasingly apparent that multiple items including hand sanitizer, toilet paper and alcohol wipes would soon be impossible for Qenos to source.
Our normal supplier had been inundated with requests for orders and had no stock. Supermarket shopping was not an option for Qenos due to the irrational panic buying that had set in by most Australian consumers.
We needed supplies fast to ensure the continued operation of our facilities, particularly for the sanitation of the Main Control Rooms and Maintenance areas where shifts rotate on a regular basis.
That's where a bunch of talented Qenos Chemists stepped in!
Using the World Health Organisation's recipe, Vi Dang, a Chemist in the Olefines Laboratory at Botany, produced a significant batch of ethanol surface sanitiser which could be used along with kitchen wipes to clean desks, computer keyboards and other objects being utilised by many different technicians. The 500g bottles being used can also being resanitized, refilled and recycled.
"I enjoyed revisiting my old mixing abilities, skills that I learnt as a student at the University of Technology in Sydney in the early 90s!" said Vi. With available stock on hand in the laboratory, Vi was only too willing to mix up plenty of different sanitizing concoctions to keep the Botany workplace COVID-19 free.
At the Altona sites, hand sanitizer was also in very short supply. Chemist, Terry Mann remembered that he had 200 litres of the main ingredient left over from a project at Qenos Plastics, as well as other materials which we already had. "Really, it's just like following a recipe for making a cake!" added Terry.
With the help of Sarah Mann (Terry's daughter) also a chemist and soon to receive a Ph.D (like father, like daughter), Sarah designed and made the labels for the hand sanitiser, "Bug-off". A very appropriate brand name claimed to kill Bugs!
Distribution of the Qenos quality made products by laboratory staff has been well received and with the appropriate MSDS developed by Alan Findlay of the SHE Department, there could soon be a new internal business blossoming at Qenos.
A big thanks to the team involved, what a great result!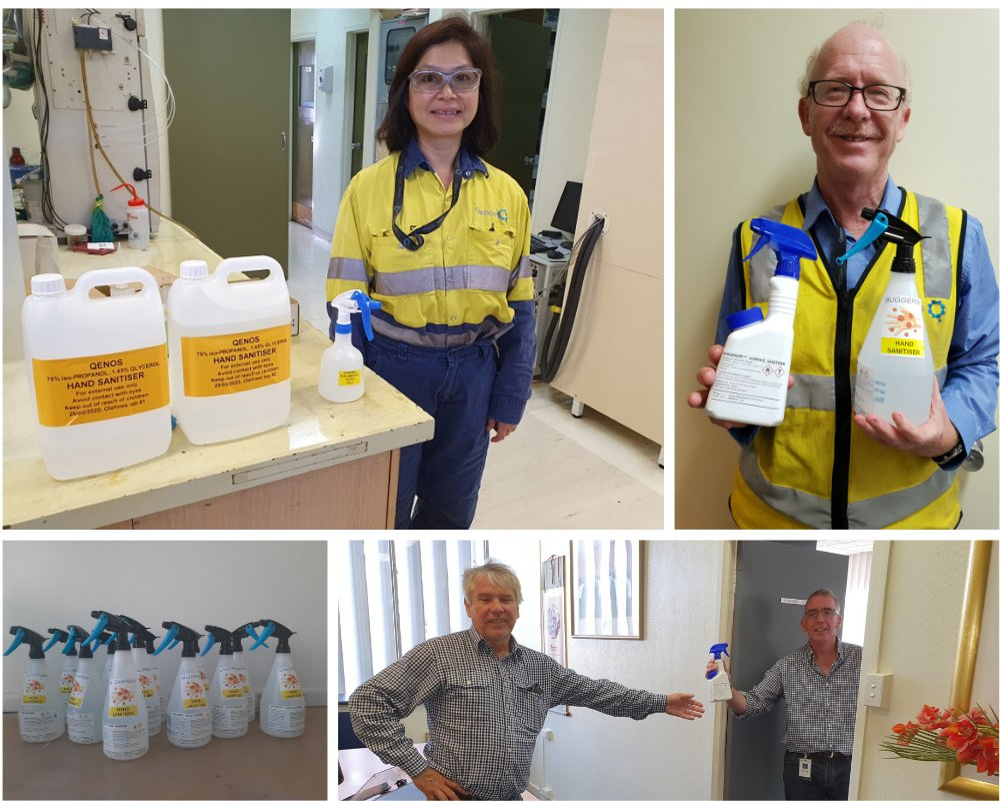 Clockwise top left - Vi Dang, Alan Findlay, Terry Mann with Steve Bell and the all important bottles of Bug-off.