ITRANSFORM WINNERS
28 April 2020, QENOS

iTransform
is the program by which Qenos recognises innovation and excellence amongst its employee and contractor workforce.
Each year, an event is held to celebrate and recognise the project teams who inspire us by transforming their ideas into real and significant benefits for Qenos. Unfortunately due to the COVID-19 pandemic, this year's annual iTransform Awards event was held on-line, with all winning teams across fourteen categories announced by video and streamed via Qenos intranet over a period of three weeks.
From this impressive list of category winners, the
SCAL-1 Expander Project
was selected as the 2019 iTransform Gold Award winner.
Qenos CEO Stephen Bell congratulated the Gold Award winning entry saying "This team epitomised everything iTransform is about - tenacity, persistence, teamwork and above all innovation to deliver an elegant technical solution with a huge business impact. The team showed great determination and persistence, constantly improving and refining the design to get an affordable capital expenditure solution, but never giving up despite several attempts."
"Congratulations to the SCAL-1 Expander Project at Altona consisting of Trevor Mayne, Dennis Elliott, Kathryn McDonald, David Kelly, Linda Fisher, Mick Dwyer, Ian MacLean and Anthony Miller."
"You are our 2019 Qenos iTransform Gold Award Winners!"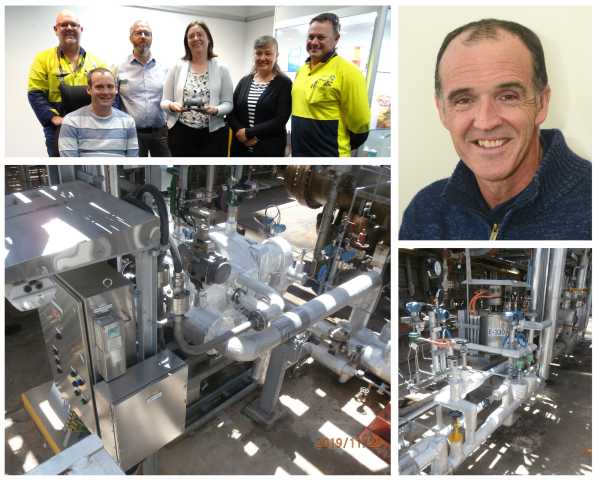 SCAL-1 Expander Project wins Gold
The Steam Cracker Altona (SCAL-1) Expander project recovers "coolth" from a waste hydrogen stream, using this as additional low level refrigeration to recover substantial amounts of ethylene and ethane that would otherwise be lost to fuel gas. The SCAL-1 expander was first proposed in 2004 at a cost of A$6m (worth minimum A$9m-$10m today) but unfortunately the return was not sufficiently high and the project was shelved.
Project lead, Trevor Mayne, persisted in exploring lower cost expander projects with multiple concepts generated. This project utilises existing technologies in a novel way and combines a generator from a high end air compressor with a custom designed expander module, all on the same shaft – a world first combination of these technologies. Trevor convinced a number of people around the world (in France, Germany and USA) to provide technical support for the project – they saw something in the idea and wanted to be involved, even though the project is very small compared to most of their work – it was a technical challenge for them.
Some of the challenges included managing shaft thrust balance during startup, managing temperatures along a common shaft with a very large temperature difference, finding a suitable cold insulation product (Cryogel) that allowed the project to be installed within a small area and a multitude of other details required to bring to life this unique concept.
Financial approval was given in April 2018 and the expander has been running continuously since September 2019. A phenomenal amount of work was achieved by the entire SCAL-1 team and the expander is now recovering 6-8t/d of ethylene with further optimisation opportunities identified to maximise ongoing benefit from this new equipment.
A real demonstration of team determination and persistence.
During his announcement of the winners Stephen Bell added "This is the fourth year of the iTransform program, and yet again I am extremely proud of both the excellent quality and increased number of entries. Each category contained some world firsts and some 'Why didn't I think of that?' moments. I'm sure you have been as impressed as I am, by the skill and drive within our organisation to make Qenos an even better place to work."
Congratulations to all entrants in 2019!