A CELEBRATED INTERN
28 September 2020, ALTONA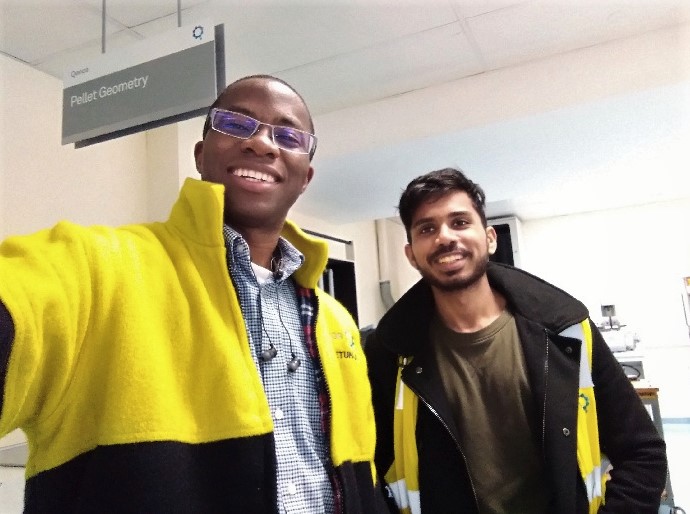 Philip Adetunji with Thaseen Mohammad at the Technical Centre on Thaseen's last day
(this photo was taken prior to masks becoming compulsory during COVID19)
Local universities have an abundant pool of talented students available for internship opportunities who are particularly keen to find hands on experience in a Commercial and Operational environment.
In a win-win situation for Qenos, we secured one of Monash University's bright young scholars, Thaseen Mohammad, who joined the Product Development department as a Student Intern earlier this year.
Working alongside others in the Resins Technical Centre and under the direction of Senior Technologist, Philip Adetunji, Thaseen worked on the Higher Barrier HDPE (HBPE) project.
In an assessment of Thaseen's time with Qenos, Philip said:
"His responsibility was assessing the physical properties of the prototypes made. He was a very quick learner and highly motivated."
"Thaseen was organised and very efficient, and he became quite effective conducting the following tests:
· Water Vapour Transmission Rate (WVTR)
· Puncture
· Tear Resistance
· Ash
· Drop Dart Impact
All in all, over 34 different film samples were assessed by him - a record number given the short two months he was with us.
The quick turnaround in the assessment of the prototype provided valuable feedback which enabled rapid learning and development that culminated in a breakthrough that delivered the key to making HBPE consistently on a large scale. This is most critical for successful plant scale up."
Thaseen was very complimentary of his time at the Resins Technical Centre saying "Everyone was extremely helpful and pleasant, being greeted by their smiles in the morning was the best start to my day.
Qenos has an amazing workplace culture and environment, where hard work is appreciated. The positive attitude, appreciation and continuous support created an environment where I was able to push myself even further than I could ever have imagined. I have been able to gain confidence as a professional, and the wealth of knowledge and skills I have acquired will definitely prove useful in my career."
"I also appreciated everyone's contribution to keeping a positive atmosphere at the Technical Centre during these trying times. We always had a laugh during our lunch breaks which put me at ease with all of the team. A special thanks goes out to Philip whom I consider my mentor. He kept me motivated and I've had a lot to learn from him. We shared many common interests and I consider myself very fortunate to have had him as my Supervisor," added Thaseen.
This enthusiasm was also reflected by Thaseen's Monash University trainers Lisa White and Gemma Hodge who nominated him to receive two awards. Thaseen was named the most outstanding performer in his cohort throughout the training component of the Monash Professional Year Program receiving the Director's Award for Outstanding Achievement. He also received a Special Acknowledgement for the most Outstanding Intern Nominee based on supervisor feedback for his reliability, professionalism, attitude and communication skills.
Thaseen proved to be an outstanding intern at Qenos. Philip congratulated him on his extreme enthusiasm and high energy. "He is a fast learner, very focused and is a hardworking individual. He is able to adapt to any situation and we found that he adjusted very well within Qenos. Thaseen took it upon himself to complete an internship report on his work, as well as conduct Market and Competitor research."
His contribution will remain a solid part of the next evolution for Qenos HDPE barrier film solutions.
Qenos is hopeful that the Internship Program will resume fully next year, post COVID19.