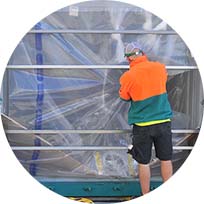 POLYETHYLENE FOR AUSTRALIA – DELIVERED BETTER BY QENOS
Qenos delivers 100's of tonnes of polyethylene (PE) to plastics businesses around Australia every day. Over the past ten years the amount of product delivered by Qenos would have filled the MCG not once but nearly twice.

With decades of experience working with the Australian plastics industry, Qenos has developed great relationships and specialised skills and equipment to ensure that customers' logistics needs are met or exceeded.

Qenos PE products are available around Australia. Qenos' logistics partner, TOLL Group, operates two state of the art distribution centres in Melbourne and Sydney. These purpose-built facilities store, package and distribute Qenos's products and also service Qenos' manufacturing sites in Altona and Botany. There are also storage facilities in Adelaide, Brisbane and Perth helping to ensure timely supply to all Australian plastics businesses right across the nation.

Qenos can supply PE in bulk container loads, 1000kg bulker bags or 25kg bags to meet customer requirements. Dedicated packaging facilities in both the Melbourne and Sydney distribution centres ensure that the quality and integrity of Qenos PE is protected at every step.

The Qenos bulk delivery container fleet is uniquely dedicated to the supply of polyethylene.

The purpose built Qenos PE shipping containers are complete with steel floors and have only ever been used for Qenos PE storage and deliveries. Most shipping containers used for PE imports have timber floors and are used to transport all types of materials. The risks of contamination and product taint are much more difficult to manage with shipping containers from the global pool. This can lead to contamination of imported PE. The Qenos dedicated approach is unique across the industry.

Understanding the particular importance of food contact suitability for PE, Qenos has developed a rigorous and robust approach to logistics and supply for food contact PE. After delivery of the Qenos PE resin to a blow moulding plant, at a dairy for instance, the dedicated container returns directly to Qenos where the heavyweight liner is removed and a new liner installed for refilling with polyethylene resin. This extra care ensures PE product quality and purity for food contact products.

Qenos' attention to detail also applies to the vehicles that deliver the high quality PE. TOLL Group operates a fleet of bulk discharge trailers, custom built for Qenos and only used to deliver PE. The trailers are fitted with in-line coolers to prevent product degradation, particularly when delivering in the middle of the Australian summer. Sensitive to site and neighborhood needs, the transfer blowers on the trucks are encased in acoustic enclosures to minimise noise during product unloading.

Many of the personnel involved in the storage and distribution logistics of Qenos PE have been involved in their roles for over 20 years. This gives them an intimate knowledge of Qenos' customers and their requirements, as well as familiarity with customer sites and storage facilities. Great people help to ensure that Qenos always makes high quality deliveries of high quality products.