MAJOR HAZARDS FACILITY LICENCE
29 November 2017, ALTONA
Qenos has been granted a full five (5) year licence with no conditions across all its Altona sites. This is a significant achievement and reflects upon the whole organisation's involvement in the provision of a safe and reliable operation.

Having a healthy, robust and effective safety management system is the key.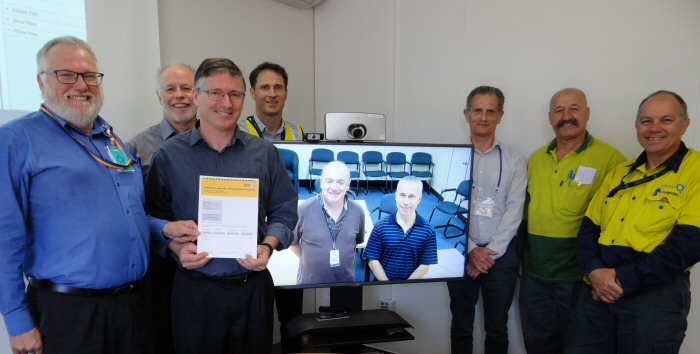 L-R Ross Bootes, Senior Process Safety Analyst at Worksafe with Paul Kennedy, Rob Berton, Nick Young, Paul Uhrig & Peter Grosskopf (Botany), Andre Olszewski, Ange Auciello and Daryl Sandford at the meeting with WorkSafe to provide feedback on the Safety Case
To obtain the Victorian Major Hazards Facility Licence, detailed evidence with supporting documentation needed to be provided in the form of a Safety Case document submission. An assessment was performed against this submission by a Victorian WorkSafe team and along with a parallel regulatory verification review by a MHF safety analyst, a favourable recommendation was then made to the advisory MHF licensing panel.
Also supporting this recommendation was historical evidence provided from the regular 'oversight' audits performed during the previous licence period to monitor ongoing compliance.
Qenos is deemed to have developed a sturdy hazard identification and risk reduction program. Other system examples such as management of change, permit to work, incident investigation, emergency response, operational and maintenance procedures and equipment reliability systems were also considered. All employees and contractors, including personnel from the maintenance and shift operations, and engineers through to senior management have had a contributing role in this outstanding result.
The Victorian Safety Case document development team led by Paul Kennedy also included Botany safety engineers Peter Grosskopf and Paul Uhrig.
Congratulations to the entire workforce for the work undertaken to achieve this unconditional licence which will provide Qenos with solid ground rules through to 2022.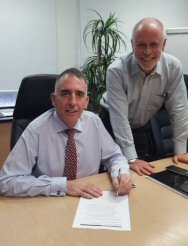 Qenos CEO Stephen Bell and Paul Kennedy sign
the Safety Case submission earlier this year.
Qenos MHF Licence